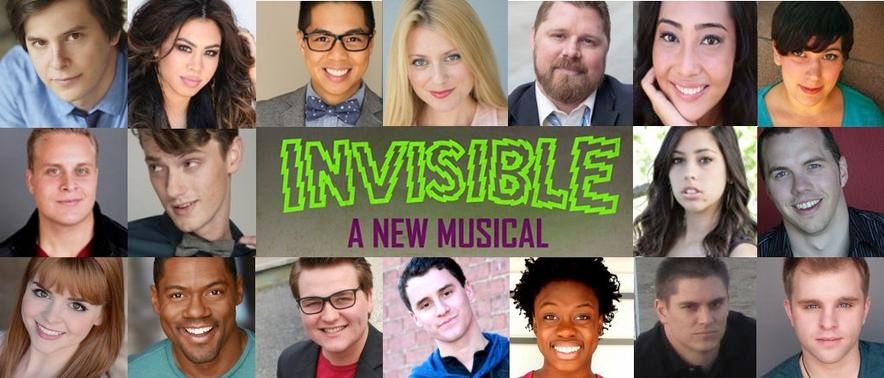 April 2017 Reading Cast & Team for the 3D Theatricals Board of Directors at the 3D facility in Anaheim:
CAST:
Daniel Bellusci (Griffin 'Griff' Grabowski) 
Julianna Keller (Cheryl 'Hemlock' Tommaso)
Daniel Amerman (Theodore 'Teddy' Kemper)
Jordan Goodsell (Chetwick Vandingwary)
Alyssa Rupert (Tiffany Madison)
Christie Brooke (Tiffany Melrose)
Dan Louis (Mr. Reeves) 
Luke Matthew Simon (Craig)
Daniel Mills (Jackal)

ENSEMBLE:
Allyson Spiegleman 
Andrew Puente 
Ariana Ramirez
Brandi Lacey
Chris Bona
Christian Sullivan
Dekontee Tucrkile
Jonathan Murrietta
Katie McConaughy
Makeala Ann Zeran
Melvin Villajin Biteng
Natalie Holt MacDonald
Orlando Perez 
Rehyan Rivera
Sarah Kennedy
Stella Kim

CREATIVE TEAM:

David Hollingsworth (Book)
David Orris (Music & Lyrics)
Ryan Ruge (Director)
T.J. Dawson (Advisor)
Corey Hirsch (Co-Music Director) 
Allen Everman (Co-Music Director)
Adam Bravo (Co-Music Director and Performing Accompanist)
June 2016 Concert Readings CAST at The Colony Theatre in Burbank, CA & 3-D Theatricals in Anaheim:
Michael Thomas Grant  - GRIFF ("The Fosters," Showtimes "Roadies")      
Daniel Amerman - KEMPER ("Arrested Development," "The Office" "Glee")                        
Ashley Argota  - HEMLOCK ("True Jackson VP," "The Fosters," "Girl Meets World," The Lion King)
Jordan Goodsell - CHETWICK (Disney's FROZEN: Live at the Hyperion directed by Liesl Tommy)                       
Luke Simon - CRAIG                                      
Daniel Mills - JACKAL                                       
Natalie MacDonald - MADISON                   
Christie Brooke - MELROSE                              
Luke Klipp - REEVES                                        
Jay Cramer  - SHERMAN                                      
Ensemble:
Melvin Biteng                                  
Natasha Gaston                              
Sara Gonzales                                 
Sarah Kennedy                              
Christian Sullivan                          
Dekontee Tucrkile                         
Collin Tyler                                          
Logan Vamosi                                    
June 2016 Concert Readings CREATIVE TEAM:
David Hollingsworth (Book)
David Orris (Music & Lyrics)                            
T.J. Dawson - Co-Director
Elise Dewsberry - Co-Director
Ron Barnett - Music Director

Ian Felchlin - Guitar
Randy Fox - Drums
Kevin Lambertucci - Bass

Julie Ferrin - Sound
Steve Troop - Puppet 
JANUARY 2016:
INVISIBLE WINS FIRST PRIZE IN THE PRESTIGIOUS NMI INTERNATIONAL SEARCH FOR NEW MUSICALS AS ANNOUNCED ON BROADWAY WORLD. AS PART OF THE PRIZE, INVISIBLE WILL BE PRESENTED BY NMI AND 3-D THEATRICALS IN A SPECIAL CONCERT READING IN LOS ANGELES AND ANAHEIM. THIS IS ALSO ANNOUNCED ON BROADWAY WORLD AND THERE MAY BE EVEN MORE IN STORE FOR 2017 ACCORDING TO THE PIECE. CLICK HERE FOR TICKET INFORMATION.
JANUARY 2015:

INVISIBLE placed in the New Musicals Inc. "Search For New Musicals," and NMI's phenomenal performance group ARC presented a staged reading of the show in Los Angeles at NMI directed by Elise Dewsberry with music direction by Ron Barnett.
​AUGUST 2015:
THE INVISIBLE STAGED READINGS PACKED THE HOUSE AT 3-D THEATRICALS
AND NEW MUSICALS INC AT NMI'S STAGES FESTIVAL OF NEW MUSICALS AUGUST 2015

THE 2015 NMI &3-D THEATRICALS STAGES FESTIVAL READINGS FEATURED THIS STELLAR CAST AND TEAM: 
Griff - Matthew Ballestero
Kemper - Rehyan Rivera
Hemlock - Nicci Claspell
Chetwick - Jordan Goodsell
Craig - J.d. Driskill
Jackal - Daniel Johnson
Madison - Alyssa Rupert
Melrose - Christie Brooke
Reeves - Dan Louis
Sherman - Constance Jewell Lopez
Ensemble -Lindsay Zana, Sara Gonzales, Sarah Kennedy, Dekontee Tucrkile, Max Havas, Orlando Perez, Austin Tyler Valdez, Melvin Biteng

Directed by Elise Dewsberry​
Music Direction by Bryan Blaskie​
Book by David Hollingsworth​
Music & Lyrics by David Orris​
​​APRIL 2014:
​THE INVISIBLE STAGED READINGS PRODUCED BY ORANGE COUNTY'S SADDLEBACK COLLEGE 
DIRECTED BY TONY-NOMINEE JONELLE ALLEN ROCKED THE CAMPUS WITH MUSIC DIRECTION BY DAVID JAYDEN ANTHONY, ​FEATURING A TREMENDOUS CAST AND CREATIVE TEAM
MAY 2013:
THE FIRST INVISIBLE STAGED READING IS HELD IN LOS ANGELES AT THE ACADEMDY FOR NEW MUSICAL THEATRE, CO-DIRECTED BY KATY SULLIVAN AND ROBIN COLLINS WITH MUSIC DIRECTION BY JAKE ANTHONY, FEATURING A SUPERB CAST AND CREW.
CABARET AND CONCERT EVENTS:
Songs from INVISIBLE have been performed in concert and cabaret by many stellar talents including Rachel Tyler (West End cast of Mamma Mia!), Amanda Kruger (The Fresh Beat Band), Randy Guiaya(The Office), Christopher Maikish (Desperate Housewives), Dylan David Farris, Lauren Graham, Ken Allen Neely(SPANK!), Matthew Bohrer (Unfriended, Showtime's House of Lies, Masters of Sex), Allie Costa and many more. These performances took place at events such as A Little New Music (at Rockwell Table and Stage in Los Angeles), the 4x10 Ensemble (at the NoHo Arts Center), the NMI "got musical" event (at The Colony Theatre) and ARC in concert to name just a few.