Orris & Hollingsworth - Authors
David Orris & David Hollingsworth (aka "The Davids") ​first met at the Academy for New Musical Theatre while working in the Core Curriculum musical theatre workshop under John Sparks (former BMI workshop teacher and early protege of Lehman Engel). Orris & Hollingsworth collaborated with many writers to develop short-form musical pieces based on a rigorous curriculum of musical theatre theory created by Lehman Engel. The two Davids finally got to collaborate on a short one-act musical (with the succinct title of The 'Harmon Galloway Reboot Your Life Total Self-Improvement Method and Enhancement System' Show) which was produced and performed at the Colony Theatre in Burbank, CA in 2012.
For five years since then, the writing duo of Orris & Hollingsworth has continued to work tirelessly on Invisible. The show went from outline to its first full draft in its first year and has since undergone many more drafts on the heels of seven sets of staged readings of Invisible that were produced and performed (by amazing casts) in Los Angeles and Orange County to packed houses.
Invisible was the 2016 recipient of the NAMT National Fund Project Development Grant with generous support from the Alhadeff Charitable Foundation (the Alhadeffs are Broadway producers of Memphis, Blind Date, Come From Away). 
Invisible was also the first-prize winner of the prestigious NMI International Search for New Musicals.
 Orris & Hollingsworth are also hard at work developing a new upcoming show-- a contemporary-and-Victorian time-travel holiday musical entitled Wonderful Time. Stay tuned for details!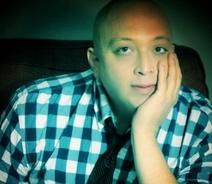 David Orris (music & lyrics) was raised in Twin Peaks (yes, it's a real place) and Chicago and is the gay, Buddhist son of co-founders the Christian Coalition.

By age four, Orris was performing-- singing and playing piano competitively and in his teen years, won music scholarships to the Wheaton Conservatory where he studied theatre, voice, piano, composition and recorded music production. Upon graduating, Orris headed to Los Angeles where he recorded, gigged and toured extensively and after years of hard work, signed with BMG Chrysalis Music Publishing. His songs and recordings have been heard in a variety of feature films and TV programs, most notably on a number of MTV programs and prominently on JJ Abrams' and Matt Reeves' hit Golden-Globe-winning television series Felicity.

Music Connection Magazine declares Orris's music "Makes you believe you're experiencing something big.... Will win fans among anyone looking for music with a soul."

Orris's alternative rock records "The Seraphim Circus" as well as "Retrograde Boulevard" appeared on several radio reporting charts, charting at #1 on CMJ and are available on iTunes, Spotify and all digital outlets.
David Hollingsworth (book) hails from northern California, raised in a family that mounted weekly Gilbert and Sullivan family performances in the living room.

As the former Editor-in-Chief of UC Berkeley's largest student-run publication (and the university's only intentionally funny student publication) The Heuristic Squelch, Hollingsworth ran the magazine in both an administrative as well as a creative capacity, heading up video projects and social media ventures, founding both the magazine's blog and twitter accounts. In addition to Editor-In-Chief, he also served as head writer for the magazine, contributing the majority of its content and editing the work of other staff writers.
Hollingsworth also collaborated with other writers to create McSweeney's-- (Onion-like) articles satirizing the news and popular culture.
He also wrote for Rooftop Comedy's collaboration with MSN, developing written humor pieces based on trending news items as soon as they broke.